I have good news and great news! For you all, anyway :-) The good news is that I'll be finishing up the transfer of my entire store's downloads to Dropbox - so no more 4shared!! Woot! This also means that I will have ALL "Buy My Store" links updated and fixed by Sunday evening, so keep your eyes peeled for that E-mail if you have purchased the shop (or would still like to!) In celebration (of the most tediously awful job EVER!) of the switch, I'm having a "Fall Cleaning" sale in the shop.
PLEASE NOTE: All 4shared links will REMAIN valid for the foreseeable future, and should that change I will give you all PLENTY of warning in advance.
As for 4shared...
If you haven't heard - I'm selling everything, released between Sept. 30 - October 15, for one low price in honor of Breast Cancer Awareness month.
I've ALSO brought back the "BUY MY SHOP" offer, which entitles you to EVERYTHING released through the end of September, with all sales being donated to Cancer research. Also, I'll be working in the shop ALL weekend so orders should be filled/sent within 1-2 hours - PARTY!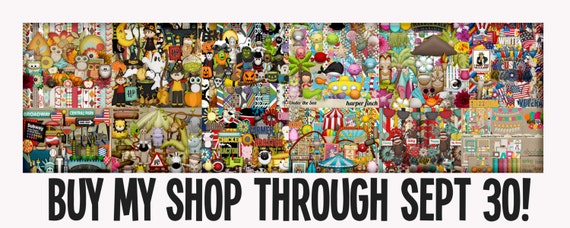 While I'm wading through the Dropbox transfer I sadly won't be able to create any new freebies...so I thought, why not just give away one of my kits? So that's what I'm doing! Over the weekend you will want to stayed glued to your inbox, the blog and my Facebook in order to snag this entire kit!
Coming to you this afternoon, in today's newsletter, are the "What's the Story" patterns.
Your FIRST freebie of the weekend is the "What's the Story?" alpha!
-Harper-