So much to share, so much to say, yet oh so little time! I have a bunch of goodies to show off to y'all so top off your coffee and let's get to it. First up, I have "Summer Breeze," now available in the Harper Finch Etsy shop. This kit is FWP when you spend $10 in the shop OR you can purchase it separately.
While you're in the shop, don't miss snagging my three latest collections...
Also available for purchase is your May donor club membership. What's the Donor Club and why should you join?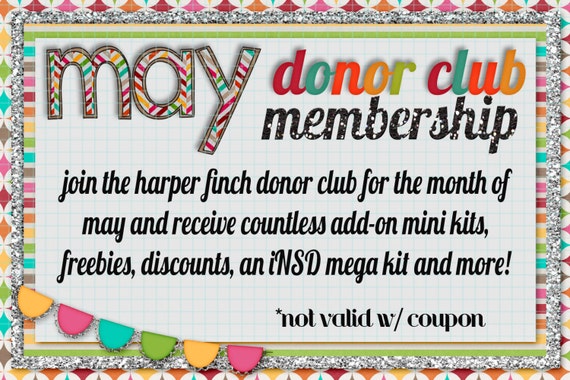 I'll begin sending out this rad Mega Kit, "My Favorite Things," to all Donor Club members on Tuesday. Twelve pieces revealed, three more to go - because when I say Mega, I mean MEGA!
Not only will Donor Club members receive the Mega Kit, you'll also be receiving a series of Mini Kits throughout the entire month of May - the first of which are shown below.
Now that I've shown off my wares, it's freebie time! Today I have for you a set of banners corresponding with "Summer Breeze."
Thanks for stopping by!
-Harper-